The E-Fund Analyzer is an electronic and interactive mutual fund analysis tool that offers our investors the immediate access to fund information, the ability to build a portfolio and perform a powerful and effective fund analysis, based on historical pricing and performance. This tool can be easily accessed by logging in to your Secure Account Access page.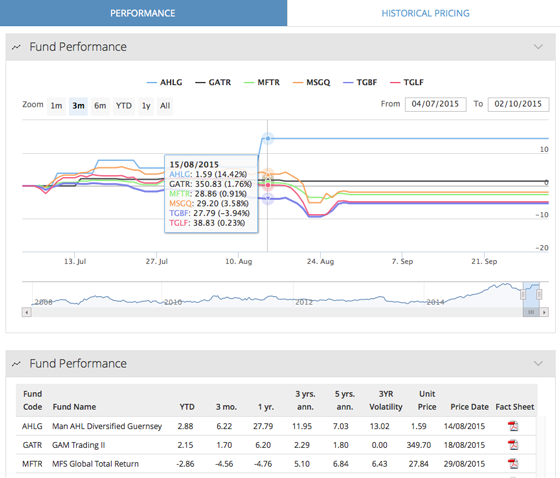 The main features offered by the E-Fund Analyzer are:
Ability to search funds by Fund Family, Asset Class, Investment Universe and Investment Strategy
View and Compare Performance Data and Historical Prices
Retrieve Fact Sheets
Interact with the graph analysis of the selected funds by Performance or Historical Pricing
Obtain a full analysis report in a PDF format
DISCOVER WHAT IT'S ALL ABOUT
Investors Trust is the global brand representing the ITA Group of companies including ITA International Holdings and its subsidiaries. ITA International Holdings is the parent company of Investors Trust Assurance SPC based out of the Cayman Islands and rated "A-" by AM Best; ITA Asia Limited, a Labuan-licensed company based in Malaysia; and, ITA International Insurer, a Puerto Rico based and licensed company.

Investors Trust is a registered trademark of Investors Trust Assurance SPC, rated "A-" by A.M. Best Company. For the latest rating, access www.ambest.com Investors Trust Assurance SPC is a member of The Association of International Life Offices (AILO).

‡Neither Investors Trust nor any subsidiaries, affiliates and businesses under the ITA Group of companies, offer investment advice or make recommendations regarding investments. You should consult your own tax, legal or investment professional to assist in your financial decisions.

*The information contained in the above message is confidential information solely for the use of the intended recipient. If the reader of this message is not the intended recipient, the reader is notified that any use, dissemination, distribution or copying of this communication is strictly prohibited. If you have received this communication in error, please delete it immediately and notify Investors Trust by sending an email to the system administrator at legal@investors-trust.com.